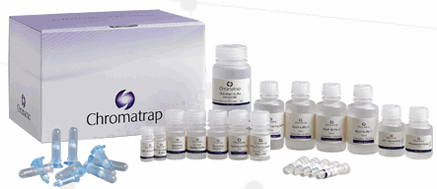 Chromatrap® Native ChIP kits provide an alternative to traditional cross-linked ChIP, which removes the need for fixing cells prior to extraction.
In native chromatin the proteins and histones wrapped around DNA are naturally linked and the traditional methods of shearing can easily disrupt the DNA- protein complexes. Therefore the DNA is biologically sheared using enzyme digestion of the chromatin. This kit can be can be used for the study of histone modifications and certain abundant transcription factors that are likely to be bound to DNA.
Chromatrap® Native ChIP kits provide a quicker, easier and more efficient way of performing ChIP assays from native chromatin. Using the unique patented technology maximizes the capture efficiency of the target chromatin/antibody complex. By avoiding the use of magnetic or agarose beads, non-specific background is eliminated together with reduced manual handling errors and subsequent sample loss.
This kit is compatible for both qPCR and sequencing as a downstream process and has a wide dynamic range suitable for low and high chromatin loadings (1-50µg). The wide dynamic range allows for better results from small sample sizes and provides greater flexibility, thus more IP assays can be performed from just one sample.
The kit is ideal for the enrichment of histone modifications and some low abundant transcription factors.
Prior to sequencing, DNA purification is required and Chromatrap® purification columns are supplied for ease of use.
The kits contain sufficient Protein A or Protein G based spin-columns, buffers and reagents to perform 24 chromatin immunoprecipitation assays and up to 10 chromatin preparations.
High levels of enrichment are produced using the Chromatrap Native ChIP Kit onto the positive gene target MYT1. Specific pull down of H3K27me3 is demonstrated by a 10-fold difference between the positive gene target (MYT1) and negative gene target (GAPDH).
Products
Note: product availability depends on country - see product detail page.