Exo-spin™ Purification Kits (EX02 for blood sera and plasma)
Exo-spin™ kits are suitable for the preparation of pure, functional exosomes from a variety of biological fluids including cell culture media, blood, urine and saliva. Exo-spin™ generates superior yields and higher quality whole exosomes compared with alternative methods. No ultracentrifugation is required, no organic buffers are used and the precipitant is purified away.
Exosomes purified using Exo-spin™ are suitable for a variety of downstream applications including RNA analysis, protein analysis and functional in vitro and in vivo exosome assays.
Highest Yields and Purity
: functional exosomes with ultra low protein contamination, no rRNA contamination, no residual precipitating agent.
No Ultracentrifugation
: gentle, 1-2 hour protocol provides consistent results every time.
Simple and Reliable
: isolate intact whole exosomes for functional studies as well analysis of RNA and proteins.
Cost-Effective: inexpensive, multiple kit sizes for your specific applications. Kits for larger sample volumes are also available.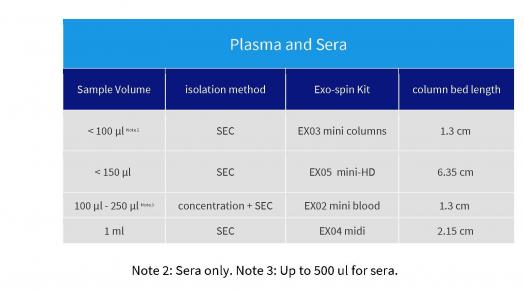 Products
Note: product availability depends on country - see product detail page.
Details
Cat number & supplier
Size
Price
Exo-Spin Blood

EX02-8 · Cell Guidance Systems

EX02-8

Cell Guidance Systems
8 columns

$170.00

8 columns

view
Exo-Spin Blood

EX02-25 · Cell Guidance Systems

EX02-25

Cell Guidance Systems
24 columns

$450.00

24 columns

view
Exo-Spin Blood

EX02-50 · Cell Guidance Systems

EX02-50

Cell Guidance Systems
48 columns

$790.00

48 columns

view