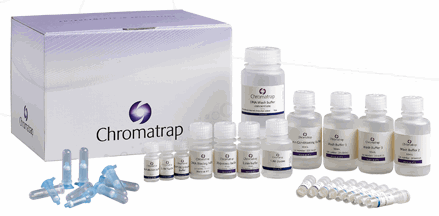 Chromatrap® ChIP-Seq kits utilize solid state technology to deliver a streamlined ChIP-Seq protocol from small cell numbers and low chromatin concentrations.
Specifically adapted for broader chromatin concentrations, Chromatrap® ChIP-Seq now combines the dynamic range of Chromatrap® with the downstream analysis power of deep sequencing. This allows faster, more reproducible genome wide identification of transcription factor binding sites and specific DNA associated protein modifications. The kit is ideal for more difficult primary cell samples and for the enrichment of low abundant transcription factors.
The ChIP-Seq kit offers high sensitivity especially for low abundant transcription factors, and can be used for both qPCR and sequencing. This kit is compatible with both high and low chromatin loadings with an increased slurry volume of 1ml offering greater flexibility with more difficult samples. This kit requires a clean-up step but due to the increased binding of the column, sufficient DNA is obtained from one column without the need to pool samples for library preparation.
Compatible for both qPCR and sequencing as a downstream process
Has a wide dynamic range suitable for low and high chromatin loadings (1-50µg), which allows for better results from small sample sizes and providers greater flexibility
Allows user to perform up to 24 ChIP assays from cell collection through to immunoprecipitation, including up to 10 chromatin sample preparations.
Kit provides all the major components required for performing ChIP assays and DNA purification columns to obtain high quality DNA for NGS library preparation
Positive and negative antibody and primer sets are provided in the kit
Available in enzymatic format for shearing of DNA by enzymatic digestion and a 96 well microplate format for high throughput ChIP-Seq.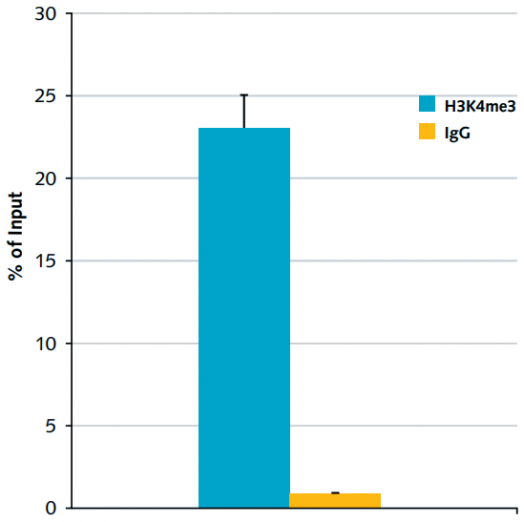 ChIP was performed on human cancer cells using the Chromatrap ChIP-Seq kit. IP was performed with the positive ChIP control antibody H3K4me3 using 2 µg antibody and 1 µg chromatin, and qPCR performed with positive control GAPDH primer set. The data is presented as mean % input (the relative amount of IP'd DNA compared with input DNA after qPCR analysis).
Products
Note: product availability depends on country - see product detail page.