Exosome Tracking
ExoFLARE™ Exosome Tracking Kits
ExoFLARE kits include transfection-ready plasmids to transiently or stably express human tetraspanin proteins tagged with a unique protein tag (FLARE - FLuorescence Activating Response Element) in your cells of interest. FLARE-tagged proteins are detected with a tag-specific fluorophore to allow tracking before and after incorporation into exosomes for extensive periods.
Neither the FLARE tag or dye fluoresce alone. When the FLARE protein and dye combine, a conformational change in the dye structure occurs resulting in fluorescence. There is continuous turnover of the dye for sustained fluorescence, but without the levels of photo-bleaching associated with fluorescent proteins, making the system ideal for long-term tracking. ExoFLARE dyes are offered in both cell permeable and cell impermeable formats offering flexibility in experimental design.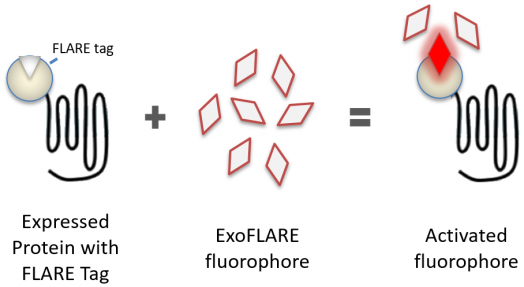 For long-term tracking of exosomes, use ExoFLARE™ to:
Image individual exosomes
Track long term movement of exosomes
Detect uptake of exosomes in non-transfected recipient cells
Key Attributes
Significantly brighter than fluorescent proteins
Differentiate between donor and recipient cell exosomes
Low background levels
Non-toxic

Figure 1: ExoFLARE constructs were transiently transfected into DU154N cells. ExoFLARE cell-permeable dye was added to the media and cells were imaged using a confocal fluorescence microscope. Red = ExoFLARE; Green = Hoechst.
Kit Contents
20 µg of a mammalian expression construct (for a single CD antigen)
EF Red s dye
Buffers
User Guide
ExoFLARE Kits
Construct

CD9

CD63

CD81

With Cell Permeable Dye

With Cell Impermeable Dye
Additional Fluorophore
Type

Cell permeable

Cell impermeable

100 and 1000 reactions
login
Login to manage your personal account details, or register here.