Nasopharyngeal swab collection kits (saline solution)
Nasopharyngeal swab collection kits with saline solution
The NEST Disposable Nasopharyngeal Saline Solution Sampler kits from Wuxi Nest Biotechnology are high quality, yet affordable kits for the collection of nasopharyngeal swab samples for COVID-19 testing.
Containing a non-toxic 0.85% saline solution, samples can be collected, transported and stored at room temperature. These kits have been validated for their ability to detect 2x limit of detection (low positives) and 10x limit of detection (high positives) samples by RT-PCR. Samples collected in this saline solution should be processed within 48 hours of collection
Swab & tube specifications
The sterile oropharyngeal swab provided features a flocked tip with a breakpoint at 80 mm from the tip, compatible with the tubes provided. The tube cap design is highly effective at containing the media and preventing leakage of the sample. The tubes are pre-labelled and each has a unique barcode identifier.
Format
These kits are available with 5 ml tubes containing 1.2 ml of saline solution. Kits are supplied in boxes containing 50 loose swabs and 5 packs of 10 vials or individually wrapped sets of 1 swab plus one tube per pack in cases of 100 kits.
Accreditations
• ISO13484 accredited manufacturer, FDA and CE Certified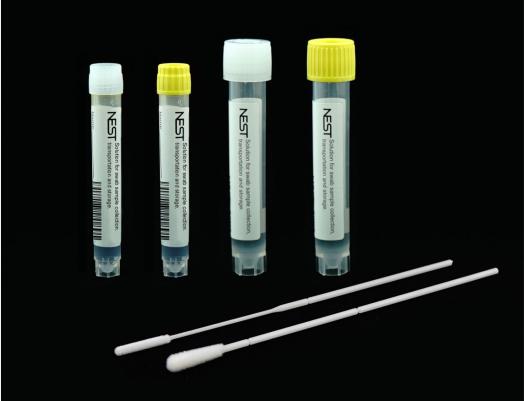 Nasopharyngeal swab collection kits with saline solution
Sample Type
Component
Catalog#

Nasopharyngeal

Oropharyngeal &
Nasopharyngeal

5ml Vial
(1.2ml saline)

10ml Vial
(3ml saline)

Swabs

Tests
$/Test
202045
✔
✔
✔
50
$3.60
202044
✔
✔
✔
100
$4.20
202049
✔
✔
✔
100
$4.80
202141
✔
100
$3.24
202142
✔
100
$4.80
202004
✔
✔
5000
$1.00
202092
✔
✔
100
$3.13
Products
Note: product availability depends on country - see product detail page.
Details
Cat number & supplier
Size
Price
Disposable Sampler, 5 ml Vial with 1.2 ml Saline Solution, with Individually Wrapped and Sterile Nasopharyngeal Swabs (10 Vials + 10 NP Swabs/pack)

202045 · NEST Scientific USA

202045

NEST Scientific USA
50 samplers

$121.50

50 samplers

view
Disposable Sampler, 5 ml Vial with 1.2 ml Saline Solution, with Individually Wrapped and Sterile Nasopharyngeal Swabs (1 Vial + 1 NP Swab/pack)

202044 · NEST Scientific USA

202044

NEST Scientific USA
100 samplers

$243.00

100 samplers

view
Disposable Sampler, 5 ml Vial with 1.2 ml Saline Solution, with Individually Wrapped and Sterile Oropharyngeal and Nasopharyngeal Swabs (1 Vial + 1 NP Swab/pack + 1 Oral Swab/pack)

202049 · NEST Scientific USA

202049

NEST Scientific USA
100 samplers

$283.50

100 samplers

view
Disposable Sampler, 5 ml Vial with 1.2 ml Saline Solution (10 Vials/pack)

202141 · NEST Scientific USA

202141

NEST Scientific USA
100 samplers

$202.50

100 samplers

view
Nasopharyngeal Specimen Collection Swab, individually wrapped, Sterile (100/pack, 5000/case)

202004 · NEST Scientific USA

202004

NEST Scientific USA
5000/case

$2340.00

5000/case

view