High Throughput ChIP qPCR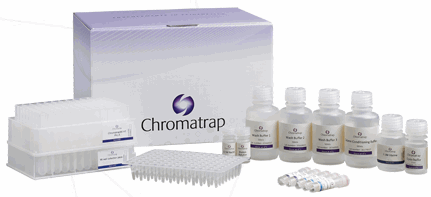 The Chromatrap® 96 high throughput ChIP microplate for qPCR is based on the novel spin-column ChIP technique. The kit contains 96 Protein A or Protein G based filters in one SLAS/ANSI standard microplate footprint device, with buffers and reagents to perform up to 96 chromatin immunoprecipitation assays and up to 10 chromatin preparations by sonication.
Chromatrap®96 ChIP qPCR assay is a short convenient assay for low chromatin loading with very small slurry volumes (40μls) with no DNA clean up steps prior to qPCR. For the first time this kit allows you to perform up to 96 ChIP assays through to qPCR analysis in less than one working day. Large, reliable data sets for qPCR can be collected efficiently, enabling widespread effects to be studied across multiple samples and cell types; all carried out simultaneously.
Optimised elution buffer chemistry allows samples to be analysed directly in qPCR without the need for DNA clean up, further reducing sample loss.
Designed for use as qPCR as the downstream process only and has a wide dynamic range suitable for low chromatin loadings (1-10µg).
Optimised for 1000ng sample sizes allowing for better results from small sample sizes and provides greater flexibility thus more IP assays can be performed from just one sample.
The kit is also available in enzymatic and sequencing format.
Products
No products are currently available in this category.