C80EZ® Cryopreservation Media
C80EZ® Cryopreservation Media
Liquid nitrogen-like viability at -80oC
C80EZ® cryopreservation media enables -80oC cell storage, providing recovery rates at levels previously achieved with liquid nitrogen storage. C80EZ forms nanoscale cubic ice during freezing, attenuating cellular damage during storage and rewarming from deep freezers (-80oC) and liquid nitrogen.
C80EZ does not contain or require any animal or human derived components, helps prevent cell aggregation and enables long-term storage in standard deep freezers of valuable mammalian cell types like stem cells and embryos. C80EZ media also improves survival in liquid nitrogen of sensitive cell types like primary neurons and white blood cells.
Formulations are available for mammalian cells, insect cells and competent cells.
Nanoscale Cubic Ice Formation
Significantly reduces ice grain size and efficiently attenuates cell mechanical damage during freezing.
Prominently improves survival of fragile cell or tissue types (e.g. primary neurons, white blood cells and corneas), which survive poorly from traditional freezing protocols.
Serum Free, Protein Free Protocols
Eliminates the need for serum or albumin in mammalian and insect cell cryopreservation. Contains no animal or human origin components. Product storage at 2-8oC.
No antifreeze proteins, their analogues, or any so-called small molecule ice re-crystallization inhibitor. No cell damaging surfactant.
Long-term Storage In Freezers
Designed for storage in both deep freezers (-70 to -80oC) and liquid nitrogen facilities (-120 to -196oC).
Prevents recrystallization during storage in deep freezers. Long-term storage in regular deep freezers has been confirmed for stem cells, embryos, spermatozoa, peripheral blood cells, insect cells, cancer cells, etc., with the higher or same post-thaw viability compared to liquid nitrogen storage.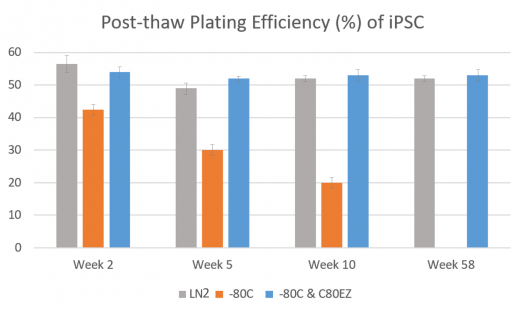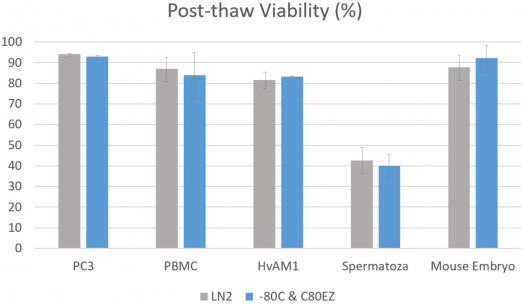 Post-thaw Viability. Top: percent viability of iPSCs after storage in standard freezing medium in liquid nitrogen and -80C versus C80EZ medium at -80C. Bottom: recovery efficiency for various samples in liquid nitrogen versus -80C with C80EZ. Samples: PC3 cancer cell line, porcine PBMC and HvAM1 insect cells (LN2 storage in DMSO and FBS, -80C storage in DMSO and C80EZ); porcine spermatozoa (LN2 storage in cryo-extender, -80C in C80EZ); mouse embryos (LN2 storage in DMSO and FHM, -80C storage in DMSO and C80EZ).
Ordering
Cell Type

mammalian

mammalian

mammalian

insect

competent cells

Formulation

with phenol red

no phenol red

with HEPES

--

--

100 ml

20 ml
Products
Note: product availability depends on country. Product detail pages show availability of each product.
login
Login to manage your personal account details, or register here.