miR-ID® miRNA Quantification Assays
miR-ID® miRNA Quantification Assays
Sensitive and Specific microRNA Quantification from Total RNA
miR-ID® is a novel platform for detecting miRNA using a circularization-based RT-qPCR method. miR-ID is highly sensitive, uses single-dye detection, and can discriminate miRNA isoforms with single nucleotide differences at any position along the molecule. The miR-ID assay is designed to detect specific miRNAs in biological samples and works well with all sample sources, including total RNA.
miR-ID provides better sensitivity, specificity, and versatility than competing methods, capable of detecting 2'-OMe modifications on the 3' ends of piRNAs in animals and all small RNAs in plants.
RT primer can be positioned anywhere along the circularized miRNA, enabling discrimination of miRNA isoforms with single nucleotide differences at any position along the molecule
miR-ID can distinguish 2'O-methyl modifications at the 3'-terminus of miRNAs
Largely complementary qPCR primers increase hybridization specificity to target cDNA sequence
miR-ID can be used for absolute or relative miRNA quantification
miR-ID Kit Contents
Circularization Reaction Mix
RT primer/s
RT Reaction Mix
RT Dilution Buffer
Nuclease-free Water
PCR primers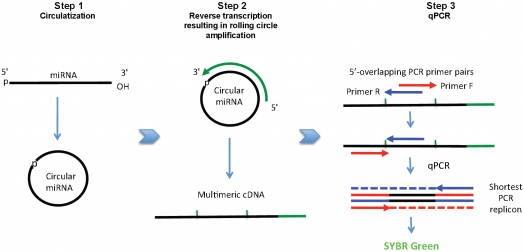 Schematic of miR-ID. The assay consists of a 3-step protocol in which Steps 1 and 2 can be performed in multiplex. If working with synthetic miRNAs, these RNAs must have 5'-p and 3'-OH groups at their termini. Step 1: Circularization of linear miRNAs; Step 2: Reverse transcription mediated by rolling circle amplification to obtain multimeric cDNA; Step 3: Quantification of the amplicon by RT-qPCR using highly sequence-specific 5'-overlapping primers and SYBR Green detection.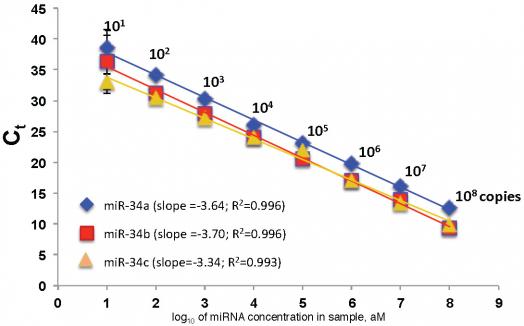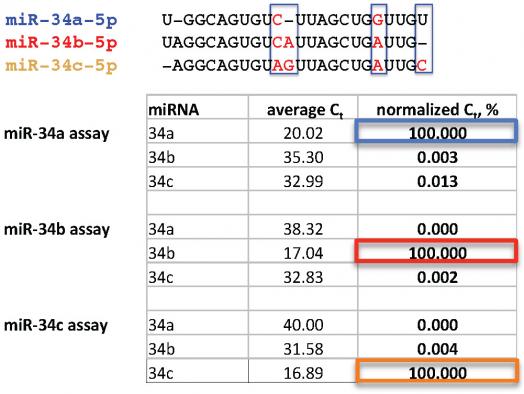 miR-ID is highly sensitive and specific. miRNA dilution curves of synthetic miRNAs show that miR-ID reliably detects miRNA concentrations over an 8-log dynamic range. RNA input copy numbers are given next to symbols. The very similar miRNAs miR-34a, miR-34b, and miR-34c are exclusively detected by their specific assays from an equimolar mix of synthetic miRNAs, as evident in the normalized Ct values.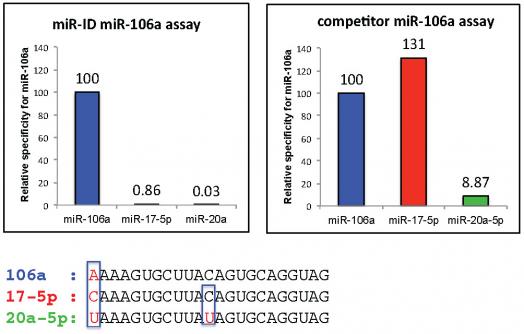 Superior discrimination of 5' end nucleotide polymorphisms by miR‐ID. miR-ID allows optimal RT placement due to miRNA circularization and uses overlapping, highly specific PCR primers. These features permit miR‐ID to provide exceptional discrimination between miRNAs with single nucleotide polymorphisms at the 5' end as opposed to competitor assays (right panel).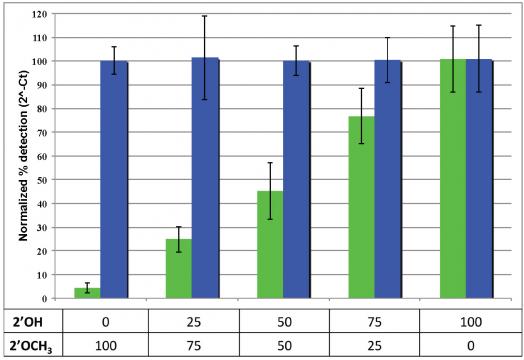 miR‐ID distinguishes between small RNAs with 2'‐OMe modifications at 3' ends. By selecting enzymes that circularize either both types of miRNAs (with 2'-OMe or 2'-OH forms on the 3' termini), shown in blue, or 2'-OH forms only (shown in green), these two end-modifications can be distinguished. In this example, synthetic let-7b miRNAs with the two respective 3' termini were assayed and quantification with the enzyme circularizing both forms was set to 100%.
This product is covered by U.S. Patent No. US8962253B2, US9416402B2 and EP2419537B1 and pending patents.
Assays
Custom Assays: custom assay development is available for targets not listed above. Email us at sales@mayflowerbio.com for additional information and pricing.
Products
Note: product availability depends on country. Product detail pages show availability of each product.
login
Login to manage your personal account details, or register here.