unambiguously resolve PLC pathway activation
Many cell surface receptors couple to the heterotrimeric G protein Gq, which in turn activates Phospholipase C (PLC). PLC produces two different second messengers, DAG and IP3, with IP3 causing an increase in Ca2+. This coordinated increase of both DAG and Ca2+ triggers the activation of conventional protein kinase C (cPKCs) to phosphorylate many different protein targets. Live cell assays that measure increases in Ca2+ have been used to detect this pathway, but a rise in Ca2+ is an ambiguous signal since other signaling pathways can produce increases in Ca2+.
DAG measurements can be used to unambiguously resolve PLC pathway activation. DAG live cell assays produce robust changes in fluorescence that can be captured on a standard fluorescence plate reader or imaging system. DAG assays are genetically-encoded and packaged in BacMam for easy transduction into a wide variety of cell types, including primary and iPSC-derived cell lines. Simply add to your cells and measure robust signals the very next day. The assays can also be multiplexed with other fluorescent sensor assays (PIP2, cAMP and calcium).
In response to activation, DAG assays are offered as either:
Upward Assays (DAG increase, green or red fluorescence signal increase)
Downward Assays (DAG increase, green or red fluorescence signal decrease)
Downward assays are recommended for conditions of high background fluorescence to more easily separate signal from background. In addition, green fluorescent DAG assays can be paired with a red fluorescent sensor for Ca2+ to better understand the kinetics of these coordinated, parallel signaling processes.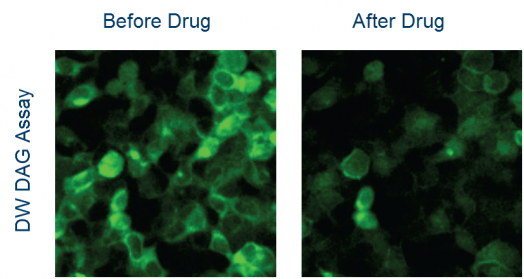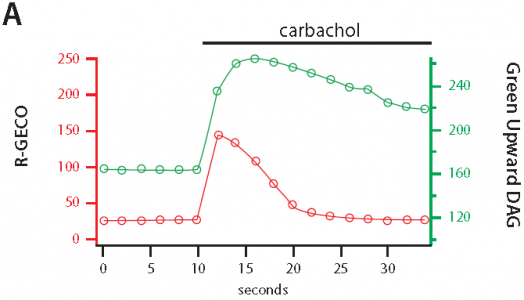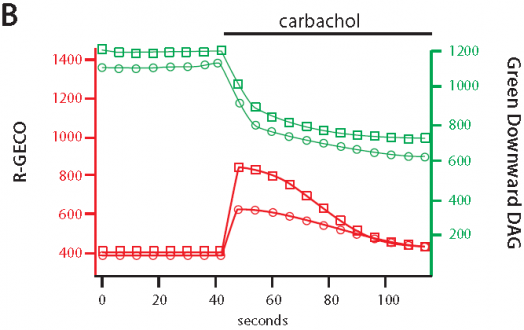 Real-time live cell multiplex detection with R-GECO calcium sensor and A) Green Upward DAG Assay or B) Green Downward DAG Assay.
Products
Note: product availability depends on country. Product detail pages show availability of each product.
login
Login to manage your personal account details, or register here.