RNAiONE - shRNA design and validation
RNAiONE - shRNA design and validation
Fields of Application
Identification of optimal shRNA sequences
for knockdown cell systems
for target validation
screening applications
Project Statistics & Customer Satisfaction Guarantee
Over the years SIRION BIOTECH has consisitently proven its technology: in 80% of recent projects they have managed to identify shRNAs with knockdown results of above 80%. This experience makes it possible for them to issue warranties with their quotes.
Principle
Cloning of the cDNA of Your Gene of Interest (GOI) into the pVal vector (=pVal-GOI)
Cloning of 5, 10, 15 or more different shRNAs into pVal-GOI (=pVal-GOI-shRNA 1-x)
Transfection of 293 or NIH-3T3 cells with the resulting validation vectors
Quantification of target gene knockdown by qRT-PCR relative to control cells
To receive a price quotation, email a description of your project specifications to sales@mayflowerbio.com.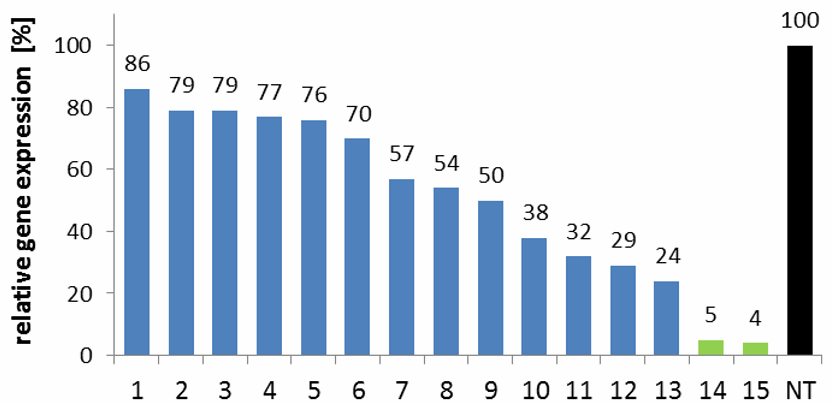 Figure: EGFP-GPCRx expression in NIH-3T3 cells transfected with plasmids shRNA sequences (1-15) or not-target (NT) shRNA.
Products
Note: product availability depends on country. Product detail pages show availability of each product.
login
Login to manage your personal account details, or register here.