This monoclonal antibody (Product code SMC-155D, Clone 15A3) detects DNA and RNA damage by recognition of the markers of oxidative damage to DNA (8-hydroxy-2'-deoxyguanosine, 8-hydroxyguanine and 8-hydroxyguanosine).
Applications include immunohistochemistry.
The image below shows SMC-155 used to detect oxidized 8-OH-dG in ischemic rat brain tissue.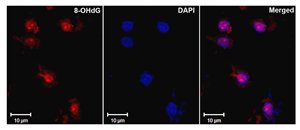 Courtesy of Dr. Yang, University of New Mexico, USA.
Products
Note: product availability depends on country. Product detail pages show availability of each product.
login
Login to manage your personal account details, or register here.