This monoclonal antibody (C92F3A-5) can be used to detect Hsp70 in a broad range of species and most major applications.
The figure below shows a Western blot analysis of Hsp70 in cell lysates from 12 human cancer cell lines at 1:1000 dilution of SMC-100.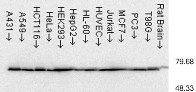 Products
Note: product availability depends on country. Product detail pages show availability of each product.
login
Login to manage your personal account details, or register here.